Tacfit Commando Bodyweight Exercise System
What is TACFIT Commando?
TACFIT Commando is based upon actual programs "Flow Coach" Scott Sonnon is using to date to train Israeli counter-terrorism, SEALs and secret service, American special ops personnel, bodyguards to the Italian Prime Minister, US federal agents, firemen, law enforcement agencies and MMA fighters. The entire TACFIT Commando program is bodyweight-only and requires the same amount of space you'd need to lie down in. It only takes 20 minutes, but it includes an intensity and fat melting power most athletes don't even tap in a full hour of training. This previously-classified program was not available earlier because of confidentiality agreements when training these agencies. But the results were so spectacular that Scott promised to walk if he wasn't permitted to make them available to the general public—and in a complete milestone, the government agencies not only agreed, but included their own testimonials in open support of the program! And now finally, you can access the exact same advanced health and fitness training that the world's top tactical experts are using.



Why TacFit Commando?
There may be nothing new to discover under the sun, but there sure is an awful lot that's been hidden in the shadows. Crisis response requires a physical training program designed to the specific needs of the field agent: tireless stamina, reactive strength, ballistic speed, agility, coordination, and active recovery and pre-habilitation. This demands movements that are unorthodox, varied, unconventional, and improvised. They must also increase in sophistication as the skills of the operator advance. Translation: this is greatest challenge and the most fun you've ever had "working out." We're talking innovative exercise, movements most trainers have never even imagined, let alone tried. Breakdance-like coordination that creates the raw strength of a gymnast, the mobility of a yogi, with the speed of a martial art champion, and the physique of a commando. When you train with TACFIT, you'll develop a superhuman ability to recover rapidly from exertion. That means you're smiling while your buddies are still gasping and exhausted on the floor. While they are trying to catch their breath, you're already headed to pick your date up.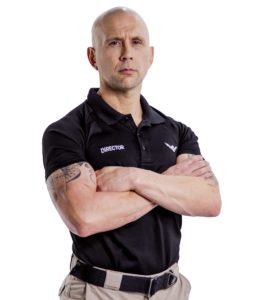 TACFIT® is the original Tactical Fitness System, created by Scott B. Sonnon. Tactical Fitness is defined as:
• Tactical: Of, relating to, or constituting a series of actions, carefully synchronized, coordinated, planned and executed to achieve a specific end.
• Fitness: methods, protocols and principles to physically, mentally and emotionally prepare, mitigate and compensate for specific occupational, recreational and lifestyle stressors.
• Tactical Fitness, therefore, is a contiguous approach for specific physical preparation to enter, overcome, and recover from stressors in such a way that the individual and team become stronger, better and healthier from the stressors, rather than deteriorate from them.
The TACFIT system uses 26 workouts, with 4 different levels of challenge, and 6 different protocols of timing. TACFIT helps anyone access their innate fitness potential, by restoring their function in reality-based, practical movement: the way your body was designed and has evolved to freely move without pain. Instead of the conventional "boot camp" mentality, which emphasize unnecessarily long aerobic work, TACFIT is 20 minutes of safely intense exercise (preceded by target specific warm-up exercises and followed by customized compensatory cool-down exercises).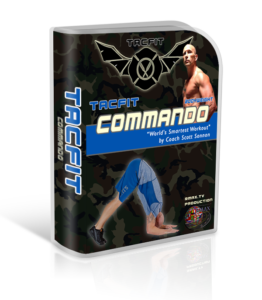 Kraft, Ausdauer und Agilität
0